Check Our Hilton Head Real Estate Listings
This is a site dedicated to user-friendly location of the properties on HHI, SC that buyers of primary, secondary, and investment ocean and ocean front, golf, tennis, and retirement homes are most interested in.

MLS Listings - Homes, Condos, Villas, and Lots
Learn about and explore the various and unique communities that HHI, SC has to offer by simply navigating the pages of this site - whether you have visited HHI, or not, everything is here and just a few clicks away.
Start with the Quick Search, above, and then progress to the Advanced Search, which is hyperlinked below it and the latest upgrade allows you to draw your own polygon to search within an area of your choice with.  Note that you can also use a map search hyperlinked in blue at the bottom of the display of each property page that will aid your perspective of where the many properties are located on the map.
Ocean Front Properties - All Beach Neighborhoods
The premium ocean properties are to be found in Sea Pines, Palmetto Dunes, Forest Beach, Port Royal, or perhaps on one of the mid-island beaches of Singleton Beach, Burkes Beach, Bradley Beach, or Folly Field Beach.
Harbour, Sound, and Marsh Property
Families that enjoy the deep water experience might like the Calibogue Cay or Baynard Park homes in SP, the Brams Point homes of Spanish Wells, a Ribaut Island home in Hilton Head Plantation, a waterfront home in Windmill Harbour, a harbour home in Wexford Plantation or Long Cove Club, or off-plantation on the deep water of Blue Heron Point.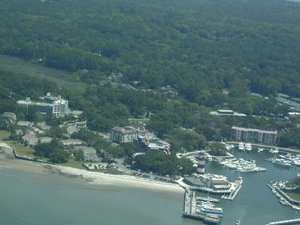 Golf, Tennis, and Sports Venues
HHI is home to many of the best championship golf course communities on the east coast, such as the Harbour Town, Club Course, Ocean Course, or Sea Marsh/Heron Pointe neighborhoods of SP, or the Robert Trent Jones, George Fazio, or Arthur Hills course subdivisions of Palmetto Dunes.  There are similar neighborhoods within Shipyard, Indigo Run, and Hilton Head Plantation that offer multiple golf course choices.  Finally, we have the private golf club communities of Wexford Plantation, Long Cove Club, and Palmetto Hall.
Private golf communities that are super-exclusive are also to be found in Bluffton, SC in the communities of Colleton River Plantation, Palmetto Bluff, Belfair Plantation, Berkeley Hall Plantation and Hampton Hall Plantation.

The possibilities are many and there is something for everyone here, so happy searching and do not forget to e-mail or call with your questions!!!

Buying a property is a tricky thing, as we need to do a lot of planning before securing a deal on a property. Basically, people want to buy properties in those areas, where they use to work. As you have to earn your living, you need a home closely located to your professional place. But, if you are given a choice to buy property anywhere in this world, then you would surely imagine of buying a house at beachfront or at a small hill station. Well, you can still make this dream true with your purchase of 2nd home. Your second property must be a place that is close to the nature, picturesque and serene. Nevertheless, it has to be a good investment as well.
Hilton Head Island does not need an introduction as a tourist location. This beach town is known for its exquisite natural beauties and clam ambiance, nestling far from the bustles and cacophony of regular urban life. Ocean Front HHI is here to make your dream come true of having a home at Hilton Head Island. We are the most trusted, experienced and professional real estate service provider. Choose your dream property – your 2nd home.  We guarantee seamless properties, well managed, exclusively developed and affordably priced.

Hilton Head Island is a wonderful place for living. It offers several good real estate properties, including apartments, condo, villa and lots. At Ocean Front HHI, we offer professional realtor search solutions to clients. Want to have a villa or condo or lot in Hilton Head Island? We can provide you some excellent options for property investments. You can use our website to search for properties, specifying your budget, type of property, community and other preferences. The real estate industry is gaining sharp growth over the last few years. This is surely the best time to invest in properties in this area. You can either rent your property or sale it later to earn amazing profitability.

Realtors, featured on our website, are professional, reputed and committed to provide value for money properties to their clients. Our realtors specialize in Palmetto Dunes, Sea Pines, Indigo Run, Folly Field, Port Royal, Forest Beach, Long Cove, Shipyard, the Plantation, Palmetto Hall, Windmill Harbor, Spanish Wells, Wexford and various other popular places within Hilton Head Island. Right from traditional sale, short sale and foreclose – with our property search engine you can find all types of properties matching your requirements.

Benefits of Buying Ocean Front Properties

Owing ocean front properties is a good thing, whether you are thinking from the perspective of having a second home or making a good investment. Ocean front properties have high demands, and thus it is not easy at all to get such properties, unless you find a good real estate consultant. If you are in search of ocean front properties at Hilton Head Island, then the best option is searching your type of property through Ocean Front HHI web search. There are certain benefits of buying Hilton head properties. Have a quick look at those benefits at the following section:

1. A Profitable Investment

Property buying is a matter of investment, especially if it is your second property purchase. Once you have a place for living, you can go for a second home in some exquisite place. Condos, villas or lots, etc. have high demands in Hilton Head Island recently. As tourism sector is growing, demand for such properties will also go skyrocketing within a few years. Hence, it is a good investment option for everyone. You can occasionally live in your house in Hilton Head, and when you are not living here you can put the home for rent to earn handsomely. If you want to buy another better property later, take time for 2-3 years and then sell the present property. You would gather high revenues through selling the property. According to experts, property sellers can possibly earn 100% profitability through their property sales. So, find a professional realtor through our website, and buy a condo or an apartment of your choice.

2. Enjoy Occasional Family Vacations

When you have a property at Hilton Head Island, you do not have to undergo the hassles of finding or booking a hotel or condo in this place. Plan a perfect family trip to your second home, and enjoy your vacation as long as you want. This is the most convenient way of vacationing on Hilton Head Island. You can search for professional realtors in through our website. We make your experience of buying a property easy and convenient.
3. Get High Furnished Properties

Hilton Head is a posh area, where professional property developers work on various properties. It is quite easy to get condo or other properties in this area, and demand for such large, specious, modernized and sophisticated properties is always high. So, if you are looking for a sophisticated, well developed and tastefully furnished condos, then you can have a look at our website. We have featured listings for properties, showing the best properties in Hilton Head at different neighborhood within this amazing beach town.

4. Post-Retirement Residence

Everyone needs a good post retirement plan. Different people have different ideas with their post-retirement plans. Some want to trip the whole world, while others want to settle a pristine, calm and serene place with their partner. If the latter one is your choice, then consider purchasing Hilton head oceanfront homes for post-retirement settlement. Hilton Head Island is a pristine, serene and beautiful place for living. It is far from the cacophony of regular city life bustles, offering you peaceful living at charmingly romantic ambiance. Enjoy your post-retirement life peacefully with your partner at oceanfront home in Hilton Head.

Buying Properties through The Pattisall Group

The Pattisall Group provides information on properties and real estate groups in Hilton Head Island. You can use our website for searching properties as per your requirements. You can set your property type and specify budget to search homes or condos in different neighborhoods. If you are searching for beach homes, use our web property search tool to get information about the various registered and value for money properties. Using our website is simple. You can simply enter details of property in our online search tool, and the search engine will provide you information on some of the best properties.

To make your search for properties more accurate, as per your requirements, we have also enlisted neighborhoods at Hilton Head category wise in our website. You can check properties, apartments, villa, condo and lot through browsing those categories. There is a category, namely 'Villa'. Under this section, villas are enlisted. Finding villas in Hilton Head is difficult, especially if you want spacious, sophisticated and well developed villas. At our website, you can check for the available villas in at various neighborhoods within the place. Refine your search by prices, age of the property and many other options through our website.

Advanced Property Search at The Pattisall Group

We have a simple tool in featuring for property searchers. But, if you want to add more preference for property search in Hilton Head, then go for our 'advanced search' tool. This page will give you a lot of options for your property search.  Not just place and price for the properties, you can also search them by their square foot areas, number of rooms and many more. To find Hilton head oceanfront condos, our website is the most reliable place. We provide information about registered properties, which do not have any sorts of legal glitches at all. We stay as a mediator for your search of properties and realtors. Our web search is completely free – having no hidden costs at all. Our job is providing a platform to property searchers and realtors a mutual platform for communication.

Why Our Web Search for Hilton Head Island Properties?
If you are looking for Hilton head beach condos, it is not really difficult to locate good property finding websites. In fact, plenty of such websites are there, featuring a platform for searching excellent properties in Hilton Head. But, if you are looking for the best properties and realtors, our website is the best place for you. On our website we feature verified and professional realtors and their legitimate as well as sophisticated real estate projects. A fast growing residential place, especially for those, who love to stay amidst untamed nature. The place is also a growing tourist place, and hence real estate industry has excellent potential in this place.
At Ocean Front HHI, you can find properties at Sea pines plantation and other popular neighborhoods at Hilton Head Island. Use our web based property search for the following reasons:

•    Terrific Database: We boast of possessing a supreme database of properties and realtors at our web server. Search for properties at any place as you want – search any type of properties as per your needs – we commit to show you adequate results for properties so that you can make a fine choice by analyzing handful options.

•    Advanced Web Search: We care for your preferences for properties and thus we have introduced advanced web search for properties at Hilton Head. You can search for properties by setting your own requirements and conditions. Also, most importantly, it is convenient to search properties within a budget range at our website.

•    Easy Communication with Realtors: We take the pledge to make seamless communication between your and realtor or real estate service provider. All realtors, featured on our website, are registered and trusted.

•    Featured Properties at the Popular Neighborhoods: Our website features properties in the most popular neighborhoods at Ocean Front HHI. For example, if you are searching for condos or lots at Palmetto Dunes plantation, get some of the most posh properties at our website.

•    We Are Trusted and Verified: Our website is trusted and verified. Our web search tool would not cause any harms to your device or computer.

•    Find Licensed Realtors: Property buying would be an amazing experience when you can manage to find professional realtors. Otherwise, if there is any legal glitch with property seller or with the property itself, it would be considered as a bad investment for you. So, make your investment carefully at Hilton head condos – find trusted and certified realtors as well as properties through our web based search engine.

Property Buying Guide

Hilton Head is definitely an amazing place for buying a second home. The area is considered as a fabulous tourist place for its amazing natural environment. To buy properties in Sea Pines Plantation or other neighborhoods at Hilton Head, you should follow some tips that are provided below:

•    Finding a trusted realtor is must for buying properties or villas or condos. If you do not want any legal glitches with your property, then go for the reputed and certified realtors.

•    Check properties – pay a visit – only after that finalize your deal. Buying property is not an easy thing. You need to invest time and money in the process of property buying.

•    Find a good property searching website - This is what we exactly offer to you at ocean Front HHI. You can get properties as per your preferences through our advanced web searching tool.

The Pattisall Group makes your property searching and buying process convenient and easier. Whether you are looking for a villa or condo – whether you are searching for a property at Forest Beach or at any other place - The Pattisall Group is the best place for you for finding suitable properties. Try us – we pledge that you would not be disappointed!