Your Hilton Head Real Estate Source
If you're interested in Hilton Head real estate, you've come to the right place! This site is dedicated to the user-friendly location of properties on HHI, South Carolina that buyers of primary, secondary, and investment ocean and ocean front, golf, tennis, and retirement homes are most interested in.

MLS Listings - Homes, Condos, Villas, and Lots
Learn about and explore the various and unique communities that HHI, SC has to offer by simply navigating the pages of this site - whether you have visited the area, or not, everything about Hilton Head real estate is listed here and just a few clicks away.
Start with the Quick Search, above, and then progress to the Advanced Search, which is hyperlinked below it and the latest upgrade allows you to draw your own polygon to search within an area of your choice with. Note that you can also use a map search hyperlinked in blue at the bottom of the display of each property page that will aid your perspective of where the many properties are located on the map.
Ocean Front Properties - All Beach Neighborhoods
Hilton Head real estate is known for its oceanfront properties. The premium ocean properties are to be found in Sea Pines, Palmetto Dunes, Forest Beach, Port Royal, or perhaps on one of the mid-island beaches of Singleton Beach, Burkes Beach, Bradley Beach, or Folly Field Beach.
Harbour, Sound, and Marsh Property
Families that enjoy the deep water experience might like the Calibogue Cay or Baynard Park homes in SP, the Brams Point homes of Spanish Wells, a Ribaut Island home in Hilton Head Plantation, a waterfront home in Windmill Harbour, a harbour home in Wexford Plantation or Long Cove Club, or off-plantation on the deep water of Blue Heron Point.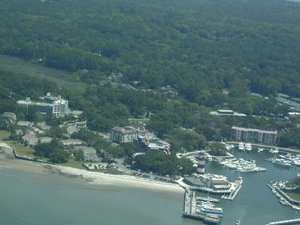 Golf, Tennis, and Sports Venues
HHI is home to many of the best championship golf course communities on the east coast, such as the Harbour Town, Club Course, Ocean Course, or Sea Marsh/Heron Pointe neighborhoods of SP, or the Robert Trent Jones, George Fazio, or Arthur Hills course subdivisions of Palmetto Dunes. There are similar neighborhoods within Shipyard, Indigo Run, and Hilton Head Plantation that offer multiple golf course choices. Finally, we have the private golf club communities of Wexford Plantation, Long Cove Club, and Palmetto Hall.
Private golf communities that are super-exclusive are also to be found in Bluffton, SC in the communities of Colleton River Plantation, Palmetto Bluff, Belfair Plantation, Berkeley Hall Plantation and Hampton Hall Plantation.

The possibilities are many and there is something for everyone here, so happy searching and do not forget to e-mail or call with your Hilton Head real estate questions!!!